All New 2022 Toyota Land Cruiser LC300 Launching This Year.
Toyota's official distributor for Nepal, United Traders Syndicate (UTS) Pvt, is preparing to bring Land Cruiser LC300 to Nepal by the end of 2021.
"We are trying to bring Nepal by the end of 2021," Probably, the new Land Cruiser LC300 will come to Nepal in October, 'said a UTS source.
After a series of Internet leaks, the Toyota Land Cruiser LC300 has been formally revealed.
The new Land Cruiser LC300 is the first all-new Land Cruiser in nearly 14 years, marking the most extended period between this SUV model. In some areas, it is also available in a GR Sport form and a 70th-anniversary edition.
Notice from the Company
In Japan, where the new LC300 has already received over 22,000 preorders, the carmaker appears to be prohibiting customers from reselling the SUV.
New buyers of the LC in 2022 will be required to sign a contract promising not to sell the SUV to foreign markets.
According to reports, customers who sign the agreement and then resell the vehicle may be barred from purchasing another Toyota for an indefinite amount of time.
Check out: Two New EV Cars- Hyundai Ioniq 5 & KIA EV6 Coming Soon In Nepal.
Here are 3 major highlights of the New LC300:
The LC300 replaces the LC200, which was previously available in Nepal.
The new GR Sport model will be more off-road oriented.
Platform, engine options, interior, and appearance are all updated.
What's New in 2021?
The new LC300 has been completely redesigned, although it is still very similar to the outgoing LC200.
New headlamps, a more prominent grille, a secondary U-shaped vent running down the grille's edge, and fog lamps situated low on the bumper are also notable modifications.
The front grille features a horizontal chrome finish, a newly designed rectangular-shaped headlamp, a boxy design body, and an attractive roof.
Compared to the LC200, the LC300 has a beautiful grille. There are many air vents in the middle of the grill.
The new-generation LC300 is built for the first time on Toyota's TNGA platform.
Squared off wheel arches and a window line with noticeable kinks between the A- and D-pillars distinguish the sides. In comparison, the back is relatively plain.
Interiors
The interior of the new SUV has been totally redesigned, starting with a primary 9.0-inch touchscreen screen or a 12.3-inch premium arrangement.
Wireless smartphone charging, Apple CarPlay & Android Auto integration, a 360-degree camera, and a head-up display have all been added to the list of amenities.
A motorized tailgate, power tailgate, and an electrically adjustable steering wheel, an air ionizer, and even a fingerprint authentication system will be offered on higher models.
A floating infotainment system, a newly designed steering wheel, a leather seat can be found in the dashboard.
Off-road gear for the Land Cruiser LC300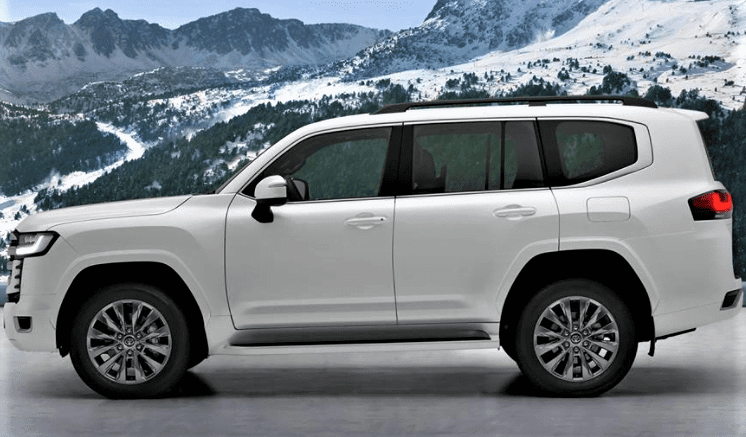 The new LC300 has the same 32-degree approach angle as the previous LC200.
The departure angle varies by version and can reach 26.5 degrees, with 230mm of ground clearance.
The new LC300 comes standard with 4WD and three differential locks, as it always does.
The Multi-Terrain Select system on the new LC300 Land Cruiser now includes Deep Snow and Auto modes.
The Multi-Terrain Monitor system has an underbody camera.
The SUV's speed is maintained while off-roading thanks to a new Crawl Control system.
The weight of the new platform has also reduced its total weight.
In addition, Toyota has reduced the importance of the new generation model by 200 kg.
Using the Toyota Safety Sense Suite feature, this vehicle has features like cruise control, lane keeps assist, and adaptive high beam.
Engine Specifications
The new LC200 will be replaced by a new 3.5-litre and 3.3-liter dual-turbo V6 diesel engine LC300.
The 3.5-litre engine will provide a maximum of 415 horsepower and 650 Nm of torque.
Similarly, the 3.3-litre engine can deliver a maximum of 309 horsepower and 700 Nm of torque.
Additional Info
The new mid-range GR Sport model is a new addition to the already-new LC300 lineup.
It has a slightly different design, smaller alloy wheels, and tyres with a higher profile.
While additional information is still scarce, reports claim that the Land Cruiser LC300 GR Sport will include an off-road-oriented suspension system that will improve wheel articulation.
Will there be a 300 series LandCruiser?
According to a leaked dealer document, the all-new Toyota LandCruiser 300 Series will make its global premiere in early June and will feature more performance than predicted.
How many miles can a Toyota LC Last?
300,000 miles.
The short answer to how long the Toyota Land Cruiser lasts is: The Toyota Land Cruiser can survive anywhere from 15 to 20 years or more with proper maintenance. In addition, the Land Cruiser can withstand over 300,000 miles of rough and hard use without breaking down because of its tough build.
What is the best LandCruiser series?
80 series.
The 80 Series is widely regarded as the best-ever Land Cruiser because of its strength, durability, and all-coil suspension. "All Land Cruisers are good," says Roothy, "but the 80 Series is the best of the bunch."
Are 200 series Land Cruisers any good?
If you want to venture Outback in a spacious, comfy four-wheel-drive wagon, the Toyota Land Cruiser is the best output even if a trip to the Outback isn't on your itinerary; the 200 Series is surprisingly maneuverable in the city for a vehicle of this size. At least seven people can sit in most forms.
What is high mileage for a Land Cruiser?
For the past 60 years, Toyota's full-size Land Cruiser SUV has been a fixture at company showrooms across the United States. It's a tough luxury off-roader, with a whopping 15.7 percent of used models on the market in 2019 having logged more than 200,000 miles.
Do Land Cruisers hold their value?
The value of a new car reduces by roughly 20% in the first year and by about 40% after five years, According to CarFax. That's not fantastic, considering anLC'ss depreciation rate is 47 percent after five years.