[December] 2022 Hero Scooter Price In Nepal-Full Review!
Hero Scooter Price In Nepal & Full Specifications.
NGM Pvt. Ltd., Nepal's authorized Hero Scooter distributor, presently sells 6 scooters in Nepal.
These scooters come with engines ranging from a classic 100cc to a more modern 125cc.
As a result, hero scooters have a solid machine that gets good mileage and performs well.
It also aims to strike the ideal balance of comfort, style, fuel efficiency, and affordability.
Here is the Hero Scooter Price In Nepal
| | |
| --- | --- |
| Hero Scooters Model | Hero Scooter Price In Nepal |
| Pleasure | Rs 1,78,500 |
| Duet | Rs. 2,25,500 |
| Pleasure Plus | Rs. 2,05,500 |
| Maestro Edge | Rs 1,93,500 |
| Maestro Edge 125 | Rs. 2,68,000 |
| Destini 125 | Rs. 2,28,500 |
| Pleasure Plus Platinum | Rs. 2,15,500 |
Pleasure
Key Specifications:
Fuel Tank Capacity: 5 Liter
Engine: Air-cooled, 4-stroke single cylinder OHC
Displacement: 102cc
Maximum Power: (6.9 BHP) @ 7000 (RPM)
Maximum Torque: 8.1 Nm @ 5000 (RPM)
Maximum Speed: 77 km/h
Length x Width x Height: 1750mm x 705mm x 1115mm
Wheel Base: 1240 mm
Ground Clearance: 125 mm
Kerb Weight: 101 kg
Deut
Key Specifications:
Type: Air-cooled, 4-stroke single cylinder OHC
Displacement: 110.9 cc
Maximum Power: (8 BHP) @ 7500 (rpm)
Maximum Torque: 8.7 Nm @ 5500 (rpm)
Starting: Self and Start
Length: 1830 mm
Width: 726 mm
Height: 1139mm
Wheelbase: 1245 mm
Ground Clearance: 155mm
Pleasure Plus
Key Specifications:
Type: Air-Cooled, 4-stroke Single Cylinder OHC
Displacement: 110.9 cc
Maximum Power: (8 BHP) @ 7500 (rpm)
Maximum Torque: 8.70 Nm @ 5500 (rpm)
Overall Length: 1769 mm
Overall Width: 704 mm
Overall Height: 1161mm
Wheelbase: 1238 mm
Ground Clearance: 155mm
Kerb Weight: 101 kg
Fuel Tank Capacity: 4.8 litres
Maestro Edge
Key Specifications:
Type: Air-cooled, 4-stroke single cylinder OHC
Displacement: 110.9 cc
Maximum Power: (8 BHP) @ 7500 (rpm)
Maximum Torque: 8.7 Nm @ 5500 (rpm)
Starting: Self-Start
Length: 1841 mm
Width: 695 mm
Height: 1190mm
Wheelbase: 1261 mm
Ground Clearance: 155mm
Destini 125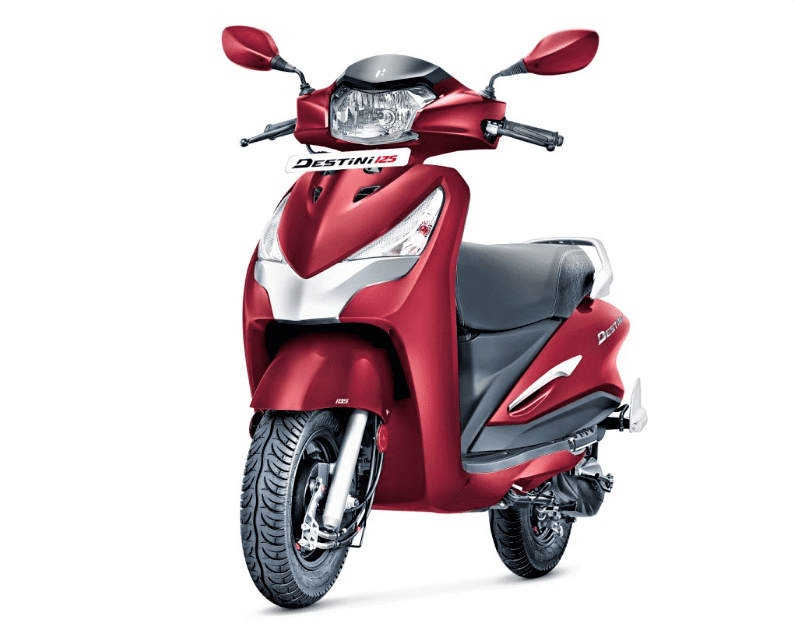 Key Specifications:
Type: Air-cooled, 4-stroke, SI engine
Displacement: 124.6 cc
Maximum Power: (8.7 BHP) @ 6750 (rpm)
Maximum Torque: 10.2 Nm @ 5500 (rpm)
Starting: Self-Start/Kick-Start
Length: 1809 mm
Width: 729 mm
Height: 1154mm
Wheelbase: 1245 mm
Ground Clearance: 155 mm
Pleasure Plus Platinum
Type: Air-Cooled, 4-stroke Single Cylinder OHC
Displacement: 110.9 cc
Maximum Power: (8 BHP) @ 7500 (rpm)
Maximum Torque: 8.70 Nm @ 5500 (rpm)
Starting System: Electric Start/Kick Start
Overall Length: 1769 mm
Overall Width: 704 mm
Overall Height: 1161mm
Wheelbase: 1238 mm
Ground Clearance: 155mm
Kerb Weight: 101 kg
Fuel Tank Capacity: 4.8 liters
ALSO, READ- Honda Scooters New Price List
ALSO, READ- TVS Scooters New Price List